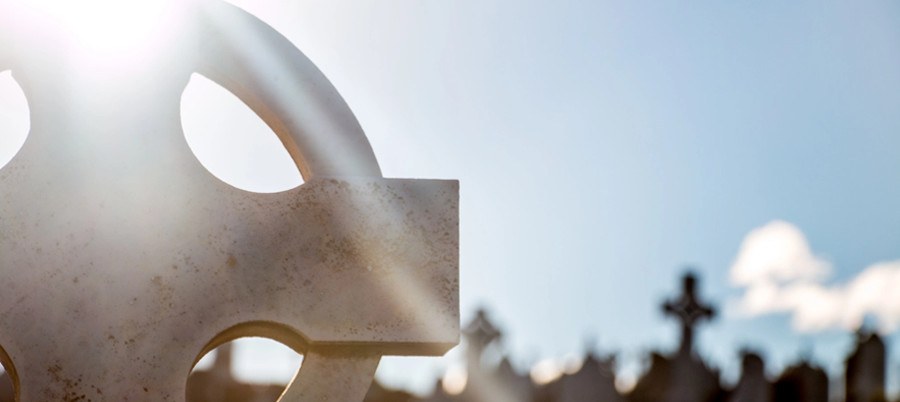 Losing My Dad to Cancer was not the End
Two days before I left for college I was told that my dad had cancer. It came as quite a shock as he was currently being treated for a skin condition, which a doctor had just discovered to be a misdiagnosis. My dad was adamant that I still leave to begin my freshmen year, especially since I would only be an hour away. So in a daze I headed off to Benedictine College.
In the months following I frequently went home to visit my dad in various hospitals while doctors from all over the country exhausted every kind of treatment they could think of. I watched my tall, strong dad wither away to around 120 pounds, lose his hair and turn into what looked like a very elderly man at the age of 45. I don't believe we ever once received good news in terms of the results of his treatments, so after two years of fighting, my dad laid in his room for the last time and surrounded by his family breathed his last.
I had many reasons to be angry. The doctors had misdiagnosed him, and if they hadn't he might still be here. I had many reasons to be sad. He wouldn't be there to see me graduate college, walk me down the aisle or be the grandfather to my children. I had many reasons to give up on faith. Why would God let this happen, if He really loved me wouldn't He have spared my family all of this suffering? But through the suffering God showered me with the grace to look past anger, sadness, and doubt and see how He desired to take things as painful as cancer and death and turn them into gifts.
The Gifts
The first gift of my dad's cancer was how it sanctified him. Throughout his illness I watched my dad grow deeper and deeper in love with his Catholic faith. He was always reading books and watching videos on the faith, praying his rosary, and yelling at any man passing his hospital room in a collar to come in for a blessing or confession. He devoted his better days to volunteering to help launch Project Moses, which has placed around 7,000 monuments of the 10 Commandments in front of churches and synagogues in reaction to courthouses taking them down. And at his funeral there were 9 priests, an abbot and an archbishop, as well as dozens of men who were his best friends that processed in as honorary pallbearers at his funeral. My dad was a good man, but I believe that through his illness he became an even better one.
The second gift of my dad's cancer is how it continues to sanctified me. While my heart did, and still does, grieve from the knowledge that I will spend the rest of my life on earth without my dad's physical presence, peace and hope have always triumphed in my heart. A peace and hope that can only be attributed to the merciful and unfailing grace of God. A peace and hope that makes me long for heaven in a way that I would never have longed for it without the knowledge that one day I will spend eternity there with people I love, like my dad. His absence reminds me that I was not made for this world, that there is more to life than what I can see before me right now. Death is not the end; it is the beginning. Death is not the culmination of life, it brings us to the point of life, heaven. If God wanted to take my dad early, take him to paradise, when I really think about it, why should that make me sad, angry, or hopeless? It should make me rejoice to know that someone I love is enjoying their heavenly reward and Iknow that they have not forgotten me.
He has not Forgotten
It was thirteen years ago today, on Sunday, October 5th that my dad was born into eternal life. It was one of his dying wishes that he pass on a Sunday morning because he said that was when he thought the world was most at peace as so many people are in their churches praying. It was also eight years ago today, on Sunday, October 5th that my son Paul Brian, with no prompting by modern medicine, was born into this earthly life. When that memorial of death was joined with a memorial of life, I knew that Grandpa Brian was interceding for me from heaven. I knew that heaven must be so amazing that he wants more grandkids to share it with one day. He has not forgotten me. God has not forgotten me. His gifts are all around us, if we only open our eyes and hearts to see things for what they truly can be.
"The Lord gave and the Lord has taken away; blessed be the name of the Lord." Job 1:21.
Be saints – it's worth it!