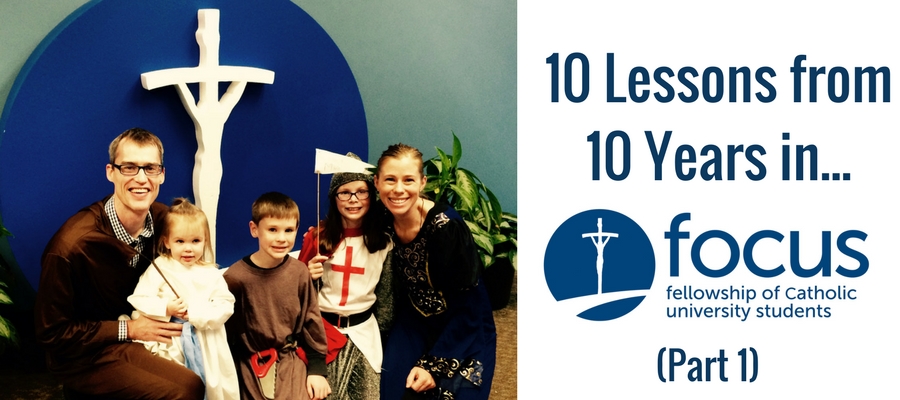 10 Lessons from 10 Years in FOCUS: Part 1 of 3
This month marks our 10-year FOCUS anniversary. It's hard to look back and remember life before FOCUS, and at the same time, it's hard to imagine that it's been 10 years. During our decade as a missionary family we have learned many life lessons and in a fit of nostalgia, I'm sharing 10 on the blog in a three part series. Here's part one.
God's Will Won't Always Make You Feel Happy
Kicking and screaming. This is really the only way I can describe my entrance into FOCUS. A few months prior to our first official day as a missionary family my husband Kevin had mentioned the idea of our joining staff after he finished his Masters in Scripture at the Augustine Institute. My response, "NO." (Okay, there may have been a mild four-letter word before that "no".) Joining FOCUS meant fundraising our salary and after two years of scraping by in grad school, I wanted to know I would have a roof over my head and food on the table.
Despite my hard no, God was at work. A few weeks after that conversation I received a call from the Dean of Students at Benedictine College asking me to apply to be a Resident Hall Director… a job which included free housing (a roof over my head) and 20 meals a week for each member of my family (food on the table), PLUS a small salary. God clearly was ready to meet my demands because I got the job and Kevin was assigned to be a missionary at Benedictine.
Despite God's providence, I was still annoyed with "having" to join FOCUS. Our first year was rough. Really rough. As in, after it was done I wanted Kevin to quit. We had made a two-year commitment, however, and despite my hesitations, we stuck to it. Nine years later, I'm glad we did.
Initially, saying "yes" to God's will for our family to join FOCUS, even with it being abundantly clear that we should, didn't make me feel happy–in fact, at times, it made me feel unhappy. However, through the process, I came to realize that feelings of happiness are not the supreme litmus test of God's will. Yes, God wants us to be happy, or content, in life, but it's not always that simple. Sometimes He has to work things out of us and push us to get to that place of peace, which is exactly what He did for me during our initial years in FOCUS.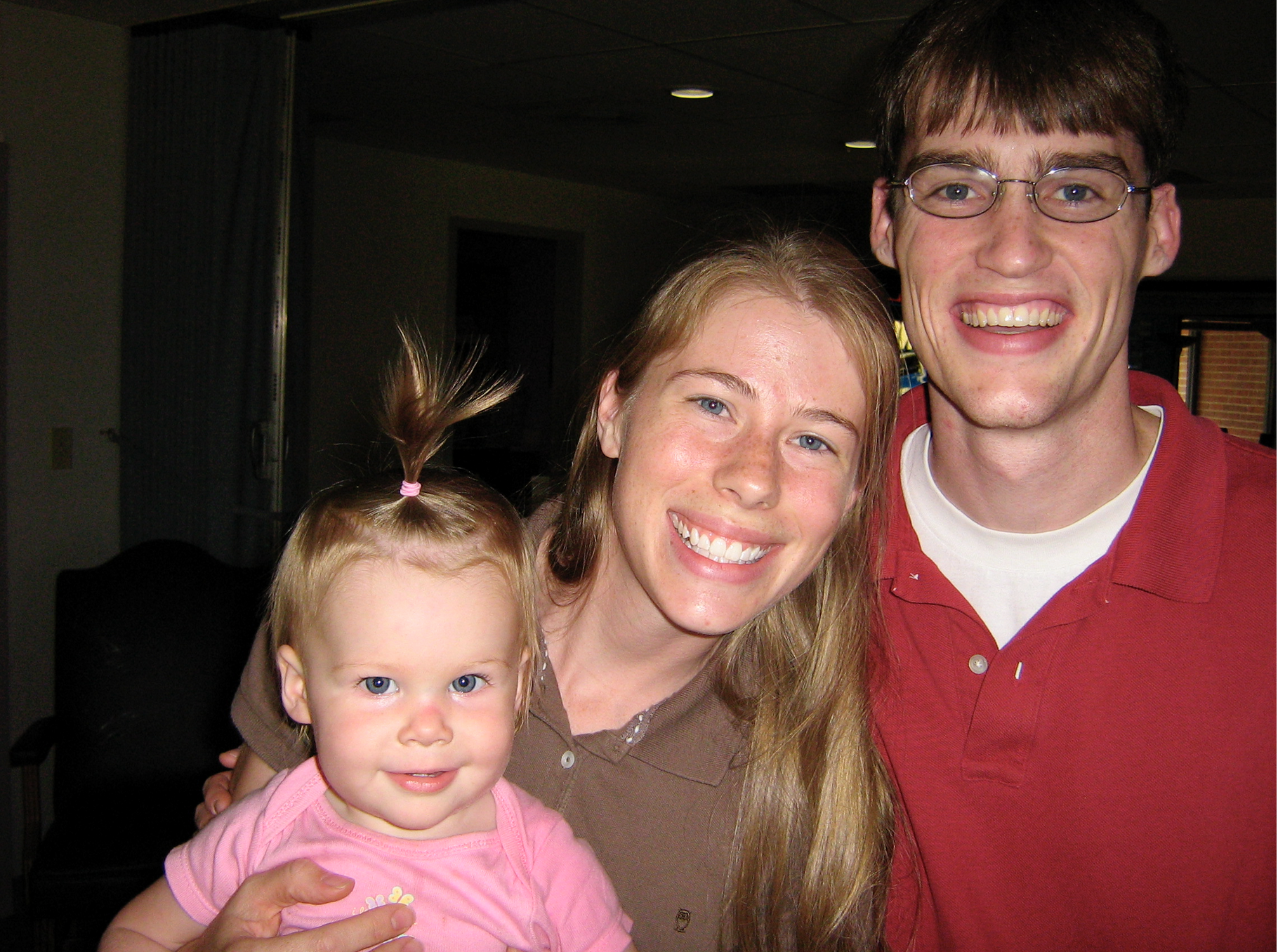 God Always Provides
After spending a few years on campus Kevin was given an opportunity to take a new position writing Bible studies at the FOCUS national office. It was the perfect job for the guy with a Masters in scripture, but there was only one problem: the job required our moving to Denver. This would mean losing my hall director salary, as well as our free room and board. (Not to mention the cost of living in Denver is roughly 10x that of small-town Atchison, Kansas… maybe that's an exaggeration, but only sort of.)
Financially this kind of change would be a huge stretch for us, so we struck a deal with God, "Lord if you want us to take this job in Denver, over the next three months You'll need to increase our support by $1,800.00 per month. If we don't get the funds, we'll start looking for a new position."
With his hand-drawn fundraising thermometer hanging on the wall, Kevin got to work knocking on every door he could think of to increase our support team. After a few strikeouts–a failed talk at a men's group and some awkward encounters asking if our current donors would consider increasing their monthly support–we finally hit a bit of success as a retiring missionary unexpectedly passed on a few of their donors to our support team.
As providence would have it, one of those donors lived a few towns over and invited Kevin to come speak at her parish's moms' group. Grateful for the opportunity Kevin showed up not expecting much, but to his shock came home with 10 new monthly donors. One-fourth of the attendees decided to join us on our mission and half the thermometer was filled that day.
After the amazing mom's group success the goal was in sight, but so was the final day of our campaign and we were out of ideas. On the Sunday morning of our deadline $45.00 still needed to be colored in red on the thermometer. As assumptions began to be made about what's next, an email came in from a non-responsive donor whom we had asked to pray about increasing their monthly support. After Kevin read it he came stumbling out of his office to tell me that in the last hour we had just surpassed our four-figure goal by $5.00.
God provides. He always provides. And while fundraising the bulk of our family's income (yes, we still do this) is unconventional, it's a blessing because we truly get to experience God's providence every. stinkin'. day.
Military Families Are Some Of The Most Generous People In The World
This might seem like an odd lesson to learn from working in a missionary organization that serves college students but read on.
The newly transferred donor who invited us to speak at her moms' group was a military wife. The 10 new donors who filled half of our thermometer were also military wives. If it weren't for these ladies believing in us, we might not be celebrating 10 years in FOCUS today.
While their financial generosity has overwhelmed us, it must also be noted that their kindness shines just as brightly.
Once these women found out we are living close by they reached out and invited me to be a part of their Catholic Moms' group. They didn't care that I wasn't a military wife, they just didn't want any mother to feel alone. And they didn't want any mother to feel overwhelmed, so they offered to babysit my kids so I could take a break. (Even although some of their own husbands were deployed and I should have been offering to watch their kids.) As I witnessed these women love and support each other while their husbands worked heroically to defend our freedom I saw an authentic community in a way I had never seen it before. It was beautiful.
When the time came for us to move to Denver they gathered boxes and delivered them to our dorm apartment. After we moved they made care packages for hundreds of the students we had served who were boarding a bus to travel 15+ hours to the SEEK conference. Even years later they still kept in touch and invited Kevin and me to speak at their International Military Council of Catholic Women Conference, where they paid for us to bring our kids and put us up in the hotel's penthouse suite.
I could go on with a trip to West Point (which included a tour of NYC), congratulatory baby gifts from overseas, never forgotten Christmas cards and more, but I think you get the idea. It makes me emotional just thinking about all of the many, many ways they have loved my family and me. They are more than generous–they are heroically generous.
Trust me, if you want to witness a model of sacrificial love, just make friends with Catholic military families, they'll show you the way.
Part 2 and Part 3 of this series are forthcoming! To learn more about FOCUS visit focus.org.