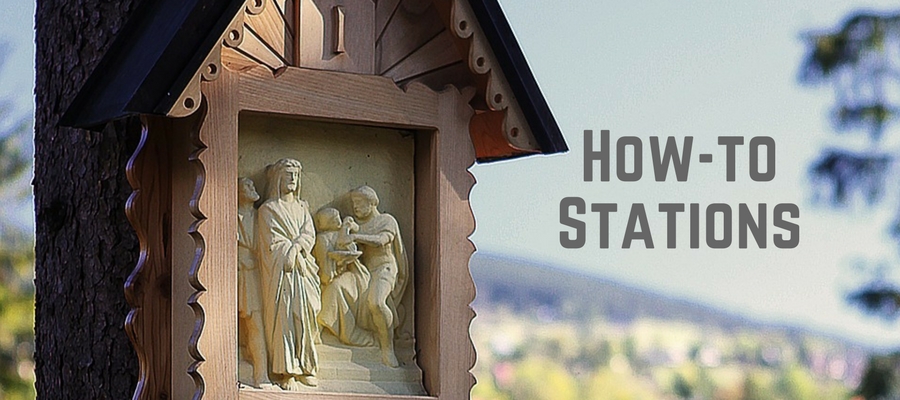 S3 Ep14: How-to Stations
Podcast: Play in new window | Download
Subscribe: iTunes | Android | RSS
Every Church has them and now that it's Lent it's time to pray them, we're talking about the Stations of the Cross. Whether you've never done the stations before or you think you know everything about them, this episode will help you enter more deeply into this sacred and important tradition.
On today's podcast, hosts Kevin and Lisa talk about 3 ways to help you pray the Stations. Along the way, they'll share what a Catholic celebrity gets wrong about Lent and a Saint Quote to Live by that, perhaps, Mother Teresa stole?
SHOWNOTES
The Way of the Cross by Saint Alphonsus de Liguori
The Stations of the Cross the Pope Francis prays on Good Friday in the Colosseum
The Way of the Cross by St. Jose Maria Escriva
The Way of the Cross by Venerable Fulton Sheen
Quotes from the Episode
"The Cross of Christ contains all the love of God; there we find his immeasurable mercy. This is a love in which we can place all our trust, in which we can believe…. let us entrust ourselves to Jesus, let us give ourselves over to him, because he never disappoints anyone! Only in Christ crucified and risen can we find salvation and redemption." —Address, World Youth Day, Way of the Cross, July 26, 2013
Saint Quotes To Live By
I am not capable of doing big things, but I want to do everything, even the smallest things, for the greater glory of God. – Saint Dominic Savio
Connect with us!
Lisa: Twitter | Instagram | Facebook
Email: hello[at]madetomagnify[dot]com