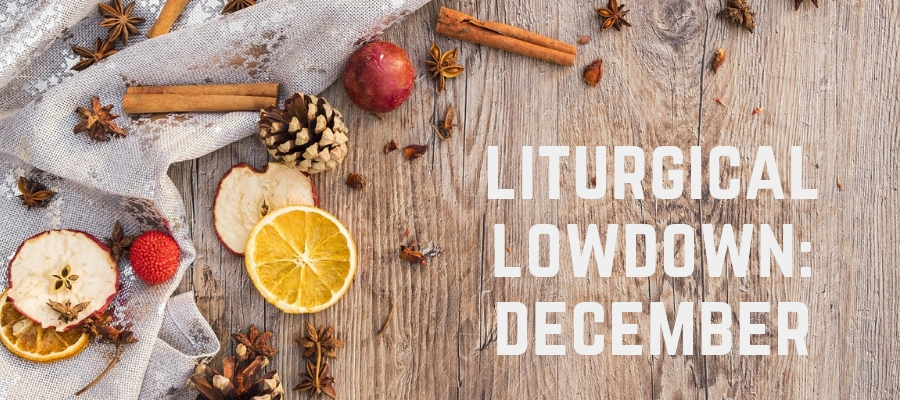 Liturgical Lowdown: December
Podcast: Play in new window | Download
Subscribe: iTunes | Android | RSS
Welcome to the Liturgical Lowdown for the month of December! In this episode host, Lisa Cotter will be giving you insights, histories, and ideas on how to celebrate and integrate the liturgical life of the Catholic Church into your life this month.
SHOWNOTES
December's Devotion: Immaculate Conception (Also, the Divine Infancy)
The Pope's Monthly Intention: Evangelization – In the Service of the Transmission of Faith: That people, who are involved in the service and transmission of faith, may find, in their dialogue with culture, a language suited to the conditions of the present time.
Advent Episodes:
Feasts of Note:
December 3rd – St. Francis Xavier (Memorial)
December 6th – St. Nicholas (Optional Memorial)
December 7th: St. Ambrose (Memorial)
December 9th – St. Juan Diego (Optional Memorial)/December 12th – Our Lady of Guadalupe (Feast in the USA)
December 13th – St. Lucy (Memorial)
December 14th – St. John of the Cross (Memorial)
Free Online Books:
December 25th – Christmas (Solemnity) (We will do a whole episode on this later!)
December 26th – St. Stephen (Feast)
December 27th – St. John the Apostle (Feast)
December 28th – Holy Innocents (Feast)
Movable Feast: Holy Family (Feast) – Sunday between Christmas and New Year's Day
Connect with us!
Lisa: Twitter | Instagram | Facebook
Email: hello[at]madetomagnify[dot]com