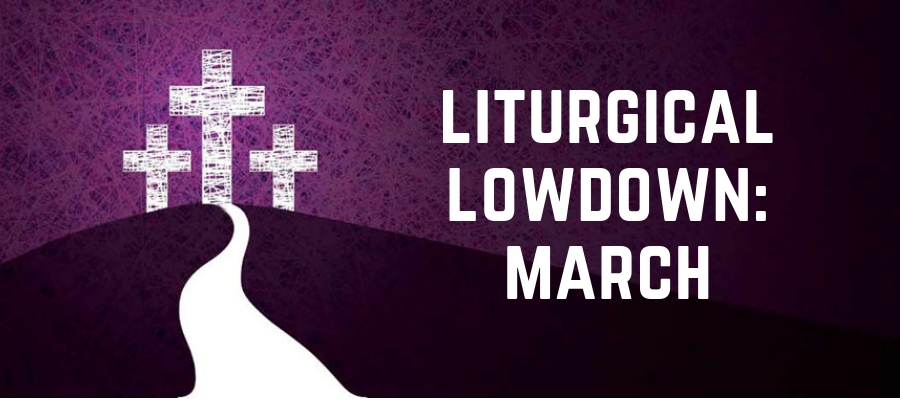 Liturgical Lowdown: March
Podcast: Play in new window | Download
Subscribe: iTunes | Android | RSS
Welcome to the Liturgical Lowdown for the month of March! In this episode host, Lisa Cotter will be giving you insights, histories, and ideas on how to celebrate and integrate the liturgical life of the Catholic Church into your life this month.
SHOWNOTES
March's Devotion: St. Joseph
The Pope's Monthly Intention: Recognition of the Right of Christian Communities: That Christian communities, especially those who are persecuted, feel that they are close to Christ and have their rights respected.
How-to Lent (on resolution making)
CatholicFamilyCrate.com (Use the code to get 20% off your first crate!)
Feasts of Note:
March 3rd – St. Katharine Drexel (Optional Memorial)
March 7th – Sts. Felicity and Perpetua (Memorial)
More on their story can be found here.
March 8th – John of God (Optional Memorial)
March 9th – Frances of Rome (Optional Memorial)
March 17th – St. Patrick (Optional Memorial in US, Solemnity in Ireland and Australia)
March 18th – Cyril of Jerusalem (Optional Memorial)
March 19th – St. Joseph (Solemnity)
March 23th – Turibio de Mogrovejo (Optional Memorial)
March 25th – Annunciation of the Lord (Solemnity)
Connect with us!
Lisa: Twitter | Instagram | Facebook
Email: hello[at]madetomagnify[dot]com
This post contains Amazon affiliate links. If you make a purchase via a link, you'll be helping to support the How-to Catholic Podcast!